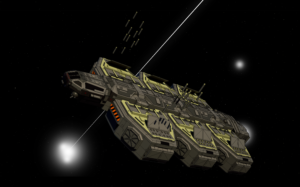 Session 12 was short and challenging to come up with and run. I spent a lot of time trying to figure out how best to bring an "occasional" player character into the game for one session and make it feel organic. I've decided this coming year to have two or three guest players for sessions, and toward the end of the year bring everyone together for a big blowout. I can't really deal with more than four regular players — it all just gets too complicated, and it is harder to get everyone together. BUT, having some guest players is a good thing.
So, our guest player was running the character Reginald Stormbringer, an ex-army badass. I spent a week making notes of game ideas and not liking any of them. Since it was a guest player session, it needed to be kind of a one-shot. It needed to have some action. BUT – I also wanted this game to set up a return to the unknown of the Void.  So I decided to put their old friend Zal Twist, the Exo-archaeologist, in harms way onboard a hijacked freighter, and have him meet Reggie onboard.
The trick to this session, and the mentally exhausting part, was keeping the flow moving with Reggie on the freighter and the players on the planet, whilst moving them toward a meeting point. It wall worked out, we got them all together, they saved Zal and the rest of the ship (though the freighter crew was all dead), and had a pretty good game.
A few notes:
Reggie got hit once by a submachine gun. They really hurt. Nearly took him out. Lesson learned, I think. Don't get shot.
I think non-combat skills are really fun, and very necessary, in my game. They might be more helpful, in fact. On populated worlds it helps if each player has some kind of social skill. Gambling, carousing, admin, streetwise, bribery, whatever. Gives them some nice options.
I need to encourage my players to really explore crazy options that make use of all their skills. I had Flint make a Tactics roll and gave him some suggestions that resulted in Barney using his Vacc Suit skill to gain them access to the freighter.
It was fun to bring the Fast drug into this game, and to use Basic (the nutrient drink from the Dumarest novels) to revive Reggie after cold sleep.
Most of my players are long-time veterans of D&D and Champions. They are very much used to knowing their character sheets really well, and knowing how to use their skills and spells to greatest effect. I think because the Traveller PCs are so simple looking on the surface my players are not sure how to really take advantage of their skills and gear. They are still doing well, but I think they might have more fun if they were a bit more familiar with their characters and gear. I'll help them develop this by putting them in difficult situations and let 'em depend on their own creativity to resolve things.
I still need to start bringing the character histories into the game more.